Surface Based Underwater Recovery

For pricing information, please fill out the form below.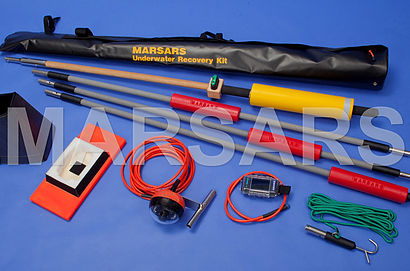 Surface-Based Rapid Rescue/Recovery System
RPKB 5.1 (20′) or RPKB 5.2 (35′)
This system gives the ice rescuer of surface based boat crew the means to make a rapid underwater recovery. Doing so, reduces the risk of injury that divers face, bringing quicker closure to a family's loss as well as your time spent on scene. Kit RPKB 5.1 includes handle and extensions for a 20′ length for a 15′ search depth; Kit RPKB 5.2 for a 35′ length for a 30′ search depth.
Kits include:
Carry/storage bag
High-quality 70″ length buoyant handle
66″ length coated extensions
Detachable grab/hoisting hook with line
Topside viewing monitor housed in waterproof Pelican™ case

Powered by one lithium-ion battery or 8 AAA Alkaline batteries (included)

30′ topside power cable constructed of heavy-duty Kevlar-reinforced polyurethane
Underwater video camera waterproof to a 150′ depth

One-Year warranty from defects in material and workmanship
Waterproof camera protected by plastic housing with clear acrylic sphere
Low or High intensity LED lighting
Onboard fisheye lens offers 170˚ field of vision

17″ x 8″ x 1″ buoyant holder for surface monitor
Attachable sun shroud for easier daylight viewing
Waterproof storage case for camera/accessories (19″L x 16″H x 7″W)

Acrylic plastic lens scratch remover kit
One lithium-ion battery charger
Fill out the form below to get pricing information.