Ice Rescue Tether Reels, Bags and Slings

For pricing information, please fill out the form below.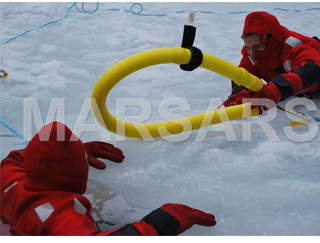 Safer Distance Ice Rescue Reduces Risk of Being Grabbed & Climbed On
MARSARS' modern approach to ice rescue minimizes the potential risk of being grabbed and climbed on. The NFPA suggests that victims be placed in independent positive buoyancy upon contact.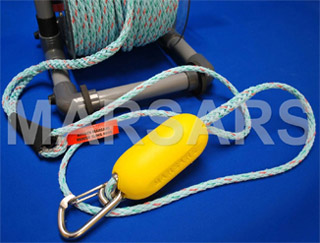 Modern Ice Rescue Extraction Method
MARSARS' ice rescue tether bags and reels of 300′ or less, feature a rescue sling hook-up point that is pre-rigged 6′ from the tether's outboard terminal end. Reels greater than 300′ do not have a sling hook-up point. For assured escape, our tethers include a non-locking freeze-free carabiner. The buoyant float prevents disconnected terminal end from sinking.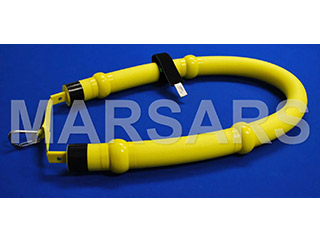 Cold Water Rescue Sling
As a cold water rescue flotation device (RFD), the MARSARS non-constrictive sling is passed by hand or pole from a safer distance.
To minimize ice mantle breakage, a sling attached pole is extended for child rescue atop thinner, unstable ice.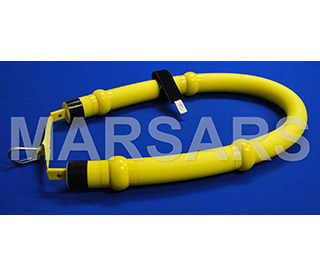 MARSARS Cold Water Rescue Sling
RPG
This sling is a cold water rescue flotation device (RFD) used to outfit a victim with independent positive buoyancy.
RPG Sling increases rescuer's reach by 33″
Provides approximately 16 lbs of buoyancy
Order item: RPG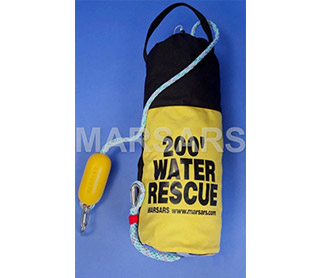 200′ Ice Rescue Tether Kit
TIR 19 (200′)
We include the versatile Land/Ice based Anchor Kit. These tethers are pre-rigged for our Cold Water Rescue Sling. This essential device is needed to establish a victim's "Independent positive buoyancy."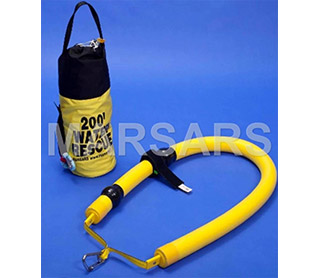 200′ Ice Rescue Tether Kit with Sling
TIR 20 (200′)
Ready for rescue, our high-quality MARSARS 200′ or 300′ Ice Rescue Tether kits offer the following features: pre-rigged with stainless-steel carabineer and rope thimbles. Yellow float prevents disconnected tether from sinking. When two teams are deployed at night; to avoid confusion, bag's base holds optional colored identity light. Tether bags available in red or yellow. Optional military grade lights are available in red, yellow or blue.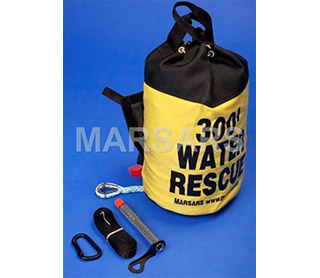 300′ Ice Rescue Tether Kit
TIR 29 (300′)
We include the versatile Land/Ice based Anchor Kit. These tethers are pre-rigged for our Cold Water Rescue Sling. This essential device is needed to establish a victim's "Independent positive buoyancy."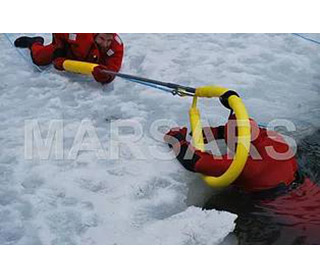 200'/300′ Ice Rescue Tether Kit w/ Sling, Handle, & Bag
TIR 20H (200′)/TIR 30H (300′)
Both water and ice rescuers are placed at risk of being grabbed and climbed on. To counter this risk, passing buoyancy to a victim from a distance, has over time, proven to be a safer method that works. To increase ice rescuer's safety, MARSARS has refined a method that uses a handle to extend buoyancy from a greater distance.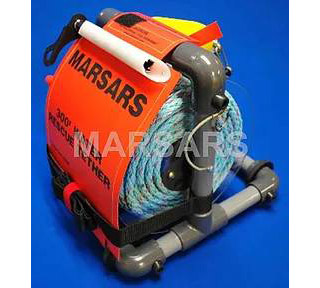 Ice Rescue Reel
All MARSARS' ice rescue reels come rescue-ready with buoyant pre-rigged 3/8″ diameter line, carabiner and float. Line strength of all hollow-braided "B" series line reels is 3,500 lbs. Blue-colored (3-strand construction) line reels offer strengths of 3,700 lbs. All MARSARS' reels float with or without rope and non-locking carabineers are provided for assured escape from life threatening situations.
Specifications without handle
| | | | |
| --- | --- | --- | --- |
| | Length | Width | Height |
| T150: | 14 1/2″ | 16″ | 13 3/4″ |
| T250: | 18 1/4″ | 16″ | 13 3/4″ |
| T350: | 24″ | 16″ | 13 3/4″ |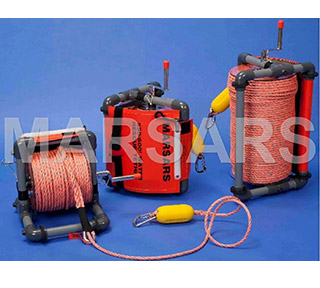 Ice Rescue Reel, Three-Strand Tether Rope Construction
T150 (300′)/T250 (600′)/T350 (900′)
MARSARS Rescue Reels are portable, compact, tangle free rope deployment dispensers. All come ready with:
Blue colored
Buoyant
Knot free 3/8″ – 9mm diameter
Sling hook-up point (300′ only)
3,700 lb breaking strength
Freeze-free stainless steel safety hook
Stainless steel rope thimble
Buoyant hook-float (prevents detached tether end from sinking)
Easy to carry shoulder carry strap (used for land/ice based anchoring)
Stainless steel removable handle
Ice anchor screw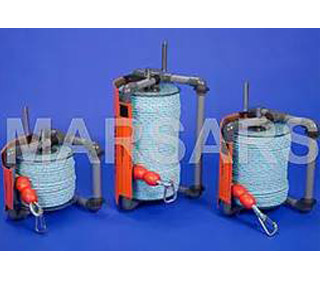 Ice Rescue Reel, Hollow Braid Construction
T150B (300′)/T250B (550′)/T350B (850′)
The "B" series of Ice Rescue Reels feature:
Braided 3/8″ (9mm) knot free Ice Rescue Rope
This non-rotational line is needed for inhaul tethering of our IRSS Shuttle. All "B" series Ice Rescue feature 300′, 550′, or 850′ of 3/8″ (9mm) diameter, 3500 lb strength hollow-braid rope.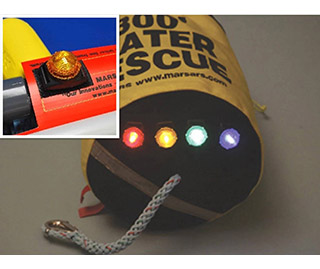 Military Grade Tether Identity Lights
P29 v
Specify color when ordering
For limited visibility, all MARSARS Tether Bags and Ice Rescue Reels come with 2″ Velcro™ square for optional identity light attachment.
Omni-directional light
Lithium battery
Features your choice of: steady on or flashing function
Waterproof
Available in: Red, Yellow, Green, or Blue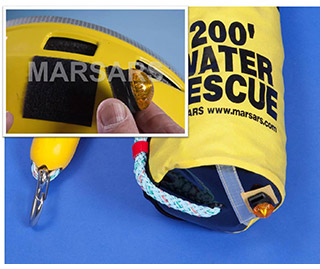 Why use colored lights instead of different colored rope?
In conditions of limited visibility (i.e. night time heavy snow, or fog), the use of corresponding colored lights on rescuer's
helmet and tether reel or bag avoids confusion.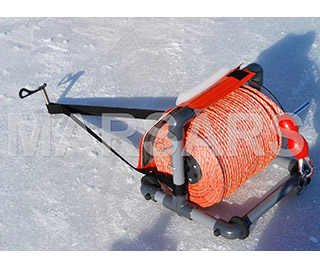 Replacement Reel Anchor/Carry Strap
T REEL ACS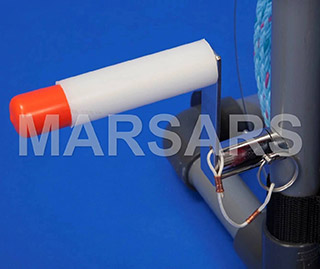 MARSARS Reel Replacement Handle
REEL HANDLE
Designed to last a lifetime
High quality stainless steel
Comes with keeper pin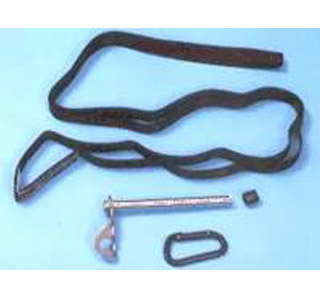 MARSARS Land or Ice Anchor Kit
iA4
Used by a single person to leverage victim from icy water or fasten line tether to a secure anchor point. Anchor kit includes:
1 inch x 5 ft black tubular web endless sling
Black SMC non-locking carabiner
13 cm ice screw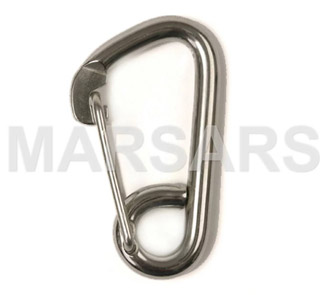 MARSARS Ice Rescue Carabiner
H11
Opens when frozen
Employs a torsion spring that minimizes the incident of accidental disconnection
Stainless steel construction
All MARSARS Ice Rescue Tether Line Kits and Rescue Reels feature the H13 Hook with Thimble.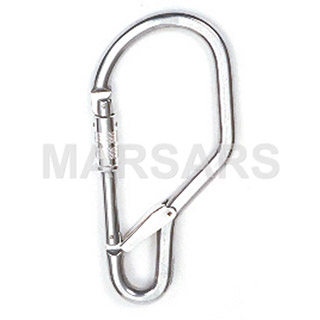 "Cinch" Carabiner, Aluminum
H14
Polished aluminum construction
5000 lb. minimum breaking strength
Weighs 8.6 oz.
Overall length: 9.37″
2.36″ gate opening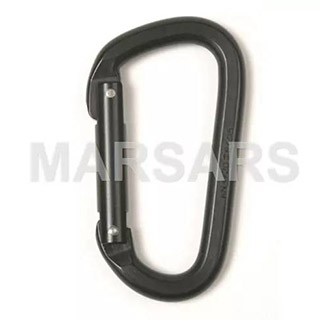 Non-locking Carabiner Hook, Black
H15
Quick connect ropes or slings. Non-locking features assured rapid emergency disconnection. Not intended for high-angle or below-grade use. Black, annodized aluminum.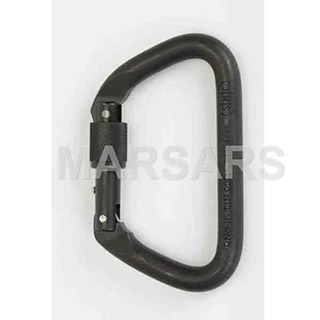 Aluminum Locking "D" Carabiner, Black
H17
The Aluminum Locking "D" Carabiner features an offset locking mechanism that offers high strength and reliability. Stainless steel gate and sleeve insures a lifetime of smooth action and trouble-free service.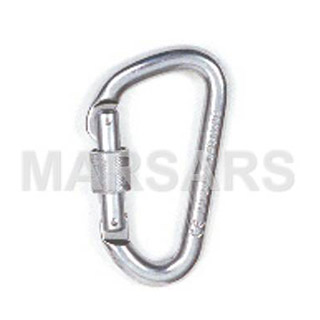 NFPA Aluminum Locking "D" Carabiners
H18
SMC stainless screw locking gate features smooth action and assures protection against unintended disconnection.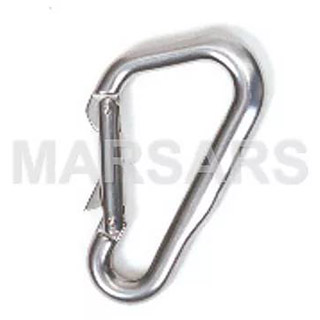 Remote Control R/C Skiff Hook
H21
The R/C Skiff Hook carabiner features stainless steel construction. Spur attached to gate allows carabiner to be remotely opened or closed.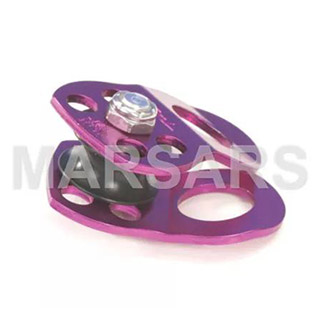 Ice Rescue Micro Pulley
H22
Small and compact, the Ice Rescue Micro Pulley is designed for a 1/2″ 12mm rope capacity with 7,000 pound minimum breaking strength.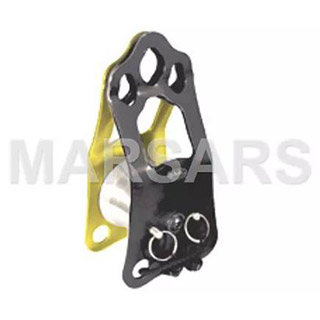 SMC Knot Passing Pulley
H25
SMC's Knot Passing Pulley (KPP) is an entirely new compact high performance KPP. Adding to its versatility, this KPP may also serve as an edge roller for rope protection.
Fill out the form below to get pricing information.